You're paying too much for your mortgage
We may be able to help save you thousands! Get your custom refinance rate online or over the phone today.

We have helped

4,670

borrowers achieve their mortgage goals!
Today's rates start at
How it works
Apply anywhere
From your sofa, the beach, or anywhere at all. Wherever you want to refi, we'll be ready.
Choose your best rate
We'll curate options just for you so you can pick the one that best fits your needs.
Upload documents
Securely upload your documents in your borrower portal to finalize your application.
Start saving
Close on your loan with the help of your dedicated loan officer and start saving on your home.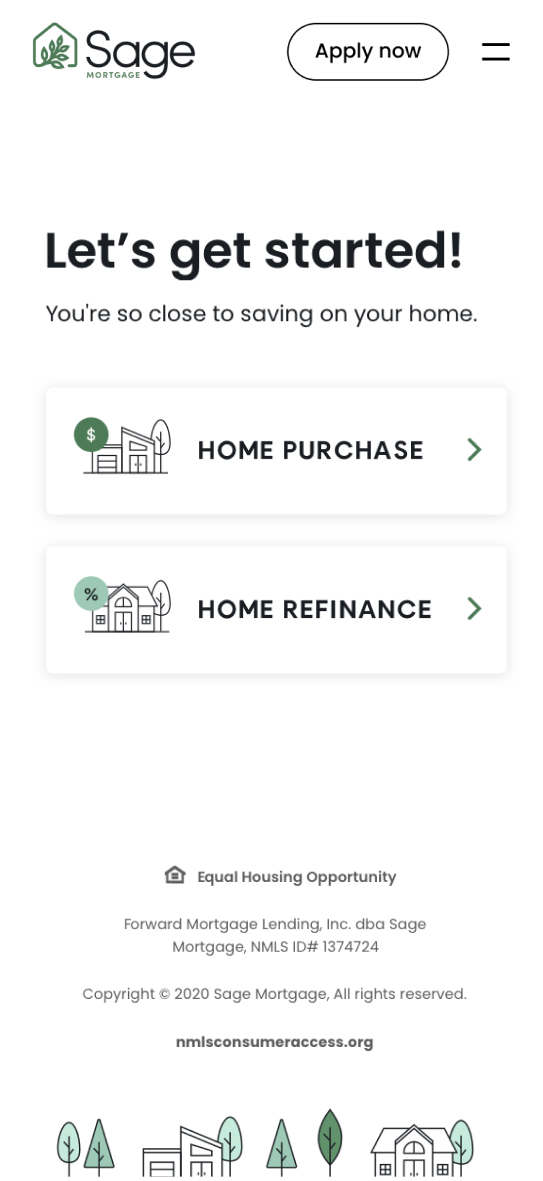 Pay off debt & more
What could you do with a cash-out refi?
No spam, no hassle, no problems.
Connect with your loan officer on your own terms. They'll help you sort through your options (via text, email or phone—however you want) to find the right refinance for you.
Did we mention...
On average we help our customers
save $430/mo!
Our reviews speak for themselves.
★★★★★
Quick and Easy
About a month ago I decided to re-fi our house. I worked with multiple lenders until a co-worker turned me on to Sage. The team (A. Clemente and R. Cunningham) were really patient in making sure I understood the loan process and all the different steps. Both A. Clemente and R. Cunningham even answered their phones during their off time. Overall it was a great experience!
Bethlehem, Georgia | Bethlehem, Georgia
★★★★★
Excellent communication and fast closing
The refinance process was handled quite well, with constant communication from Sage. Questions were quickly answered and the whole process was very easy.
PBC Refinance | Palm Beach County, FL
★★★★★
Responsive and smooth
Very happy with the service I received with Sage. We closed quickly, and they were fantastic about answering any questions that came up along the way. Would recommend.
TXrefi | Texas
★★★★★
Incredible to work with - thanks Christina!
It was a pleasure to work with Sage Mortgage from start to finish! Great customer service. Fast response times. Christina Techeira was our loan officer, can't recommend her enough. Thanks! Dan & Nora
Dan | Myrtle Beach
★★★★★
Better than expected!
Sage were patient as I met with other lenders to find the best option for me. Once I decided to go with Sage the process went very quickly and closing was effortless. Good communication, no waiting & wondering what was going on, and my questions were answered when I needed them to be.
Jonathon | North Carolina
Learn more about refinancing.